What it is all about for tmsr
After attending my Small Business Development Webinar, Carolyn McMillon asked me to help bring her vision for a website to reality for her entrepreneurial endeavor, ASK-Coaching – Training – Consulting. The Power of ³ LLC.
The project went smoothly since Carolyn already had a clear vision of her content. We collaborated to bring design and content together.
Beyond the website, Carolyn asked for polishing of her logo, two other iterations of it, and a last-minute flyer to showcase her Core Values. Her response to the work compels me to share it. THIS is what I am in it for.
You are my SHERO!!!!
Love it, Love it, Love it.

You did it AGAIN!, yes, yes, yes, This is exactly what I am looking for.

I thank you so very much for your expertise, professionalism, collaboration, and patience with me.

Your work is second to none!!!!

My daughter said tears came in her eyes when she reviewed the site because she saw my hopes, dreams, and ideas come to life.
Visit Carolyn's ASK-COACHING – TRAINING – CONSULTING. THE POWER OF ³ website HERE.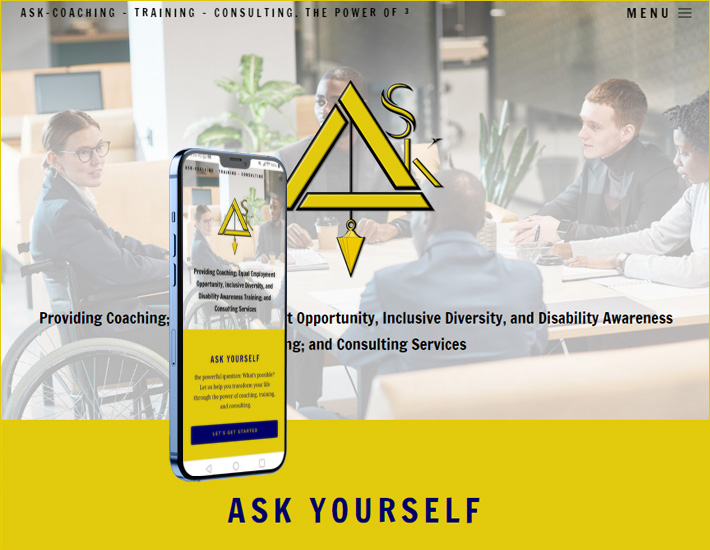 A little about Carolyn
Carolyn Jean McMillon, Founder and CEO of ASK-Coaching – Training – Consulting. The Power of ³ LLC, is a retired federal employee and subject matter expert with over 36 years of federal government experience. Her expertise includes leading large-scale programs, developing employees, creating, designing, and leading innovative employee support programs, including EEO, Diversity and Inclusion, Chaplain, and Employee Assistance Programs.